Following successful event in HCM City, on November 18th, 2016 recently at Melia Hotel, 44B Ly Thuong Kiet Street - Hoan Kiem District, Hanoi, USIS Group organized a conference on "USIS Group - New Vision - New Mission – Residential Settlement Investment Opportunity together with Google". On this special occasion, USIS Group donated vouchers of USD 5,000 and Iphone 7 for the customers who decided to invest in the LinkNYC project (valid until the end of November 30th, 2016).
With the mission of "A hand to build a Vietnamese youth generation with excellent kindness, morals and wisdom at international standards", for nearly eight years, USIS GROUP is proud to be the leading prestigious unit with the achievement of supporting hundreds of families in investment to the US for the purpose of settlement, oversea study and trade promotion in the United States. Accompanying with USIS Group are immigration law firms, leading financial and real estate groups in the United States who have been taking effort to bring Vietnamese investors worthy services and a strong commitment for the future of sustainable and stable development.
This conference is also an important milestone marking the strategic cooperation between USIS Group and Google's Partner in the LinkNYC project under EB-5 investment program of the US Government. LinkNYC is the project developing broadband infrastructure across New York City – one of the first priorities of President Barack Obama in the Memorandum of 2015. At the conference, USIS Group and American experts from New York supplied useful information to customers about the issues related to the project as well as the customers having demand to live, study and work in the US.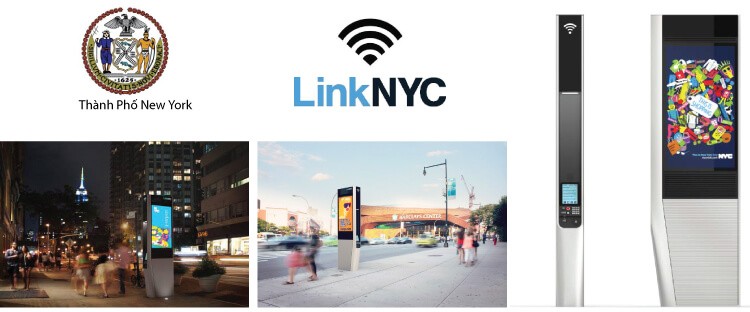 More than 100 LinkNYC kiosks were installed and are being operated in New York City. City Bridge forecasts that more than 500 new kiosks will be installed in the summer of 2016.
On this occasion, USIS Group also launched 3 Subsidiaries: USIS Investment, USIS Consulting, USIS Education with specialized services in order to serve customers the best in the fields such as: Business cooperation opportunities, trade promotion to the US market, and education-oriented consultation for children of the investor and US residential consultation…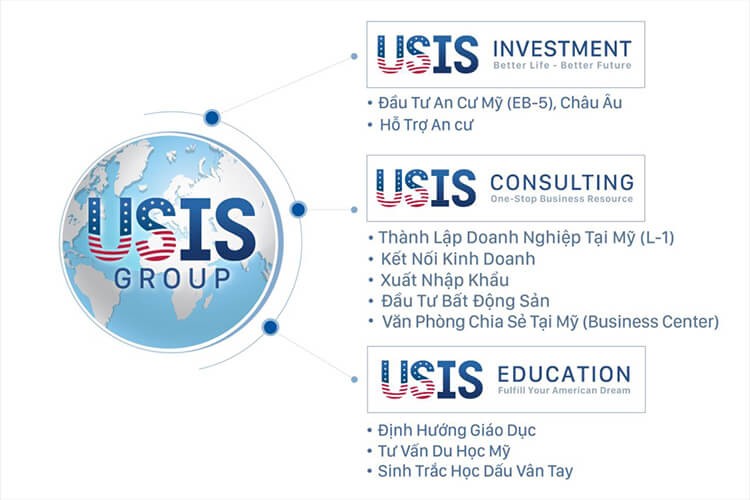 New organizational chart of USIS Group
Here are some typical photos in the last event held at the Melia Hotel in Hanoi: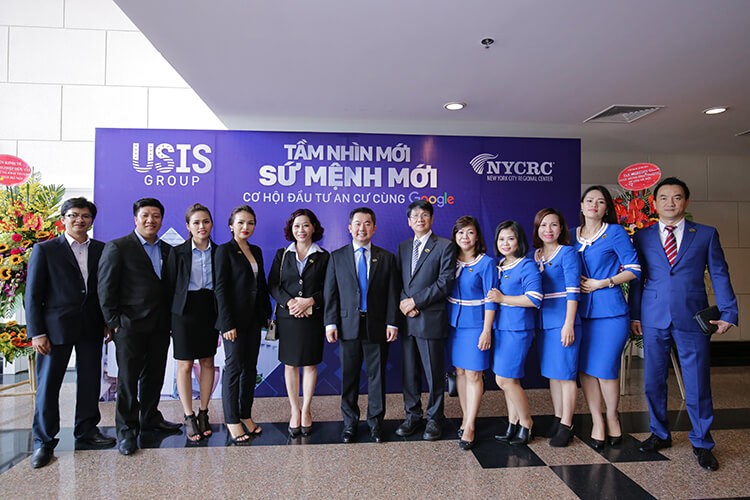 USIS Group Management Board and Staff in Hanoi were ready for the event.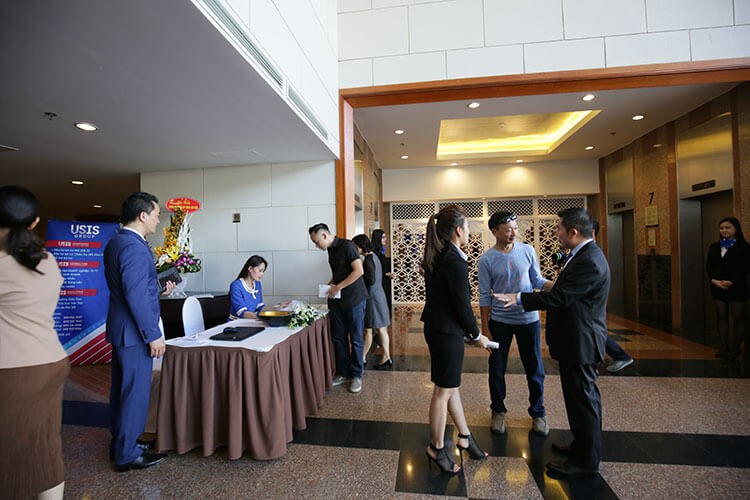 The guests check-in right at the lobby reception desk of Hanoi Melia Hotel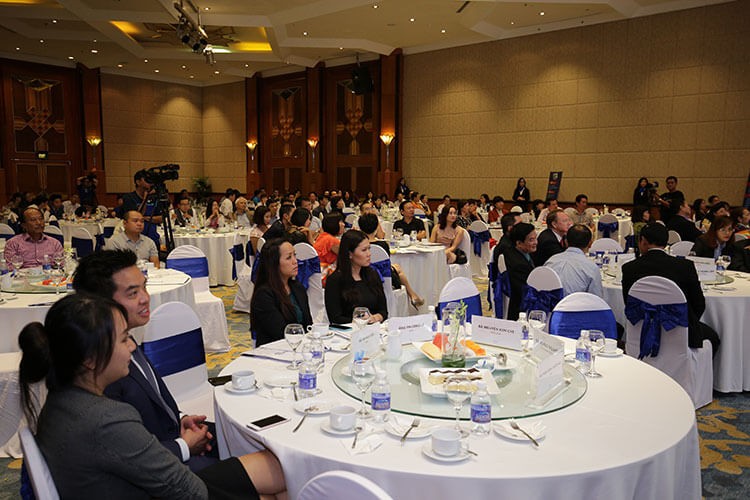 The event took place in the morning, but still attracted a lot of customers to attend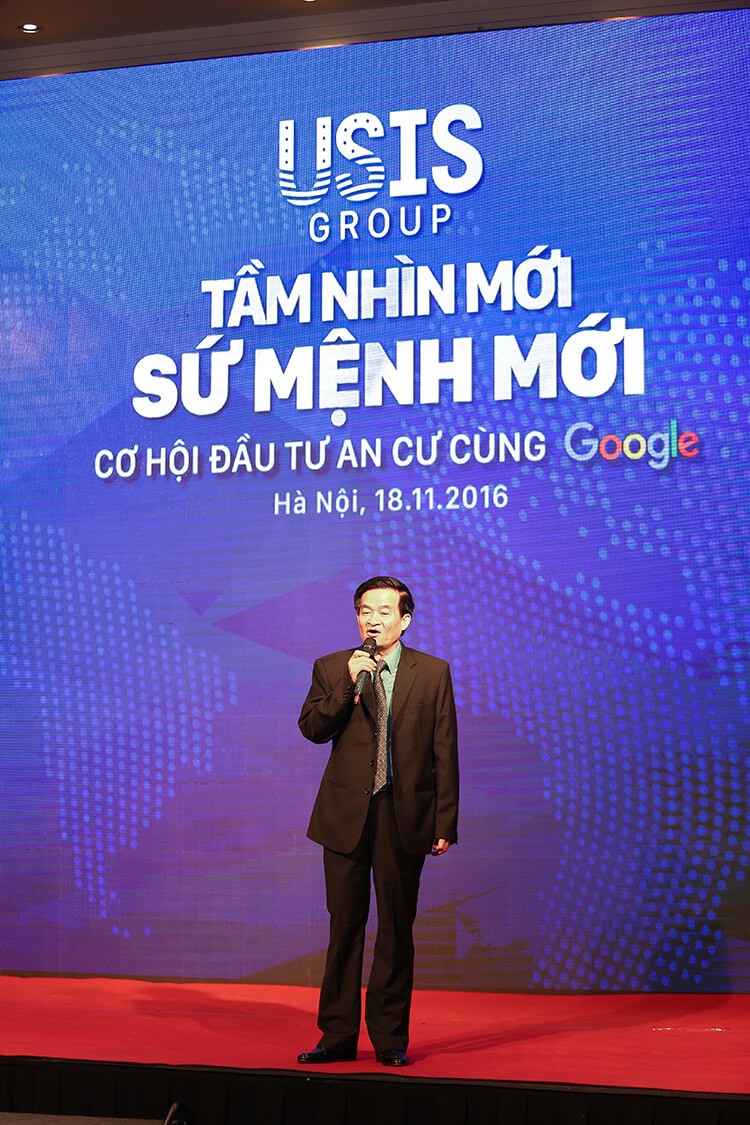 PhD. Han Manh Tien (Chairman of VACD) announced the opening of program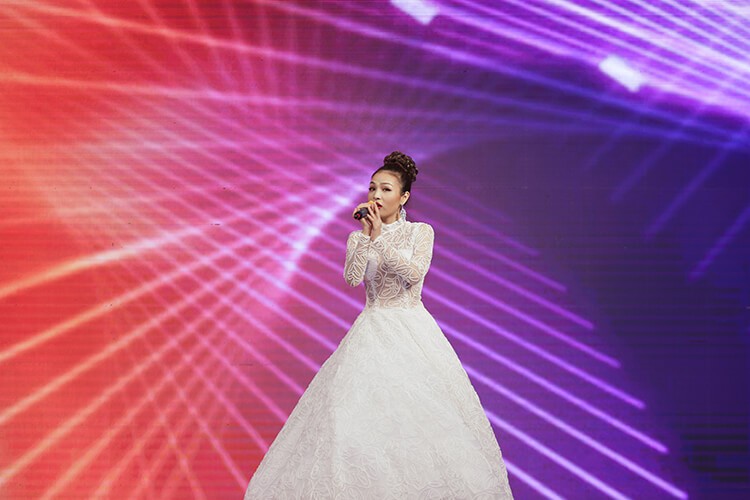 Ms. Myra Buonya (Deputy Manager of Customer Service Department of USIS Group) performed the song "Hello Vietnam" to welcome the attending guests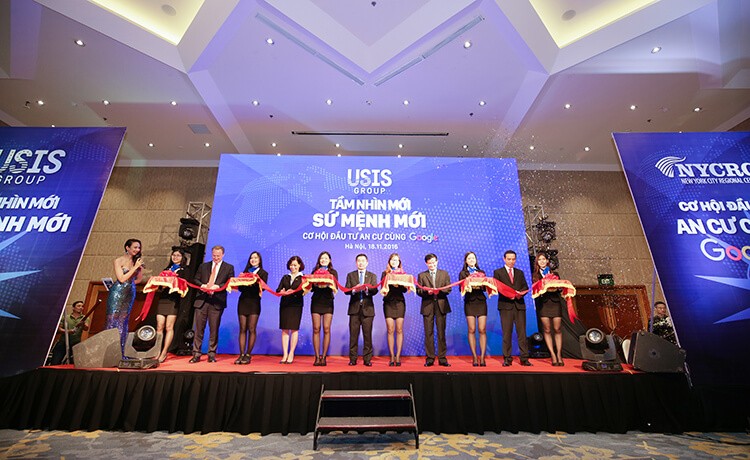 Ribbon-cutting ceremony opening the new office of USIS Group on the 8th Floor, Melia Hanoi Building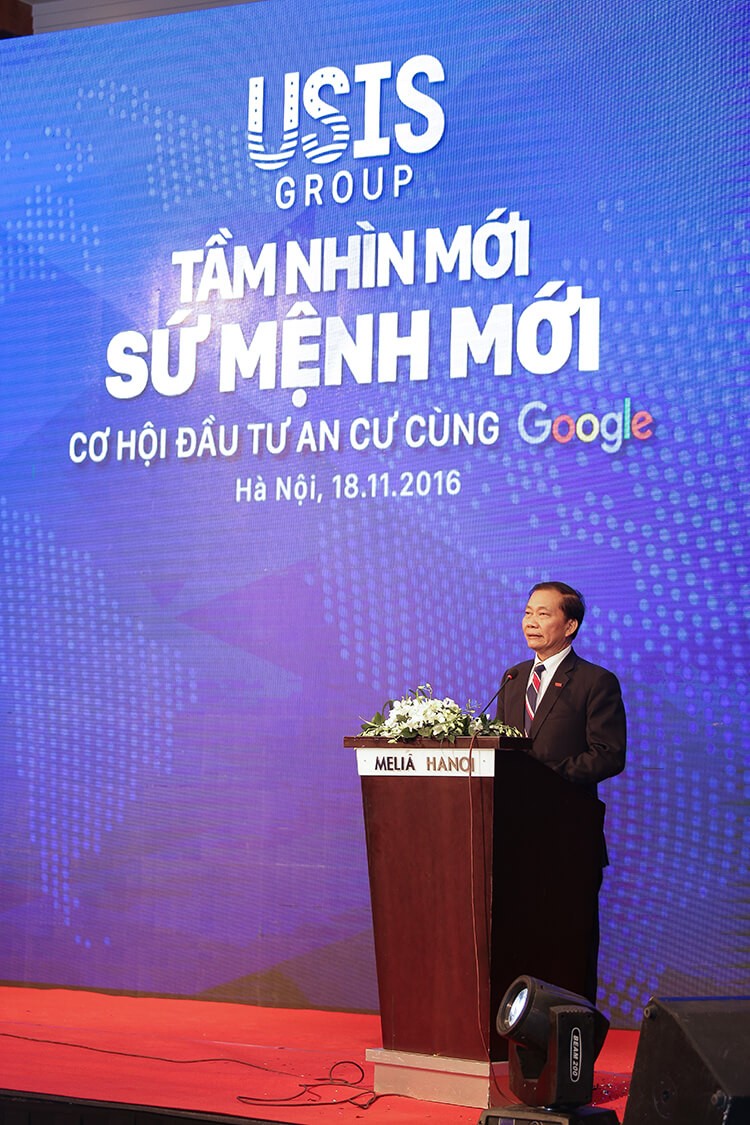 Mr. Hoang Quang Phong (Vice President of VCCI) made a speech to congratulate the event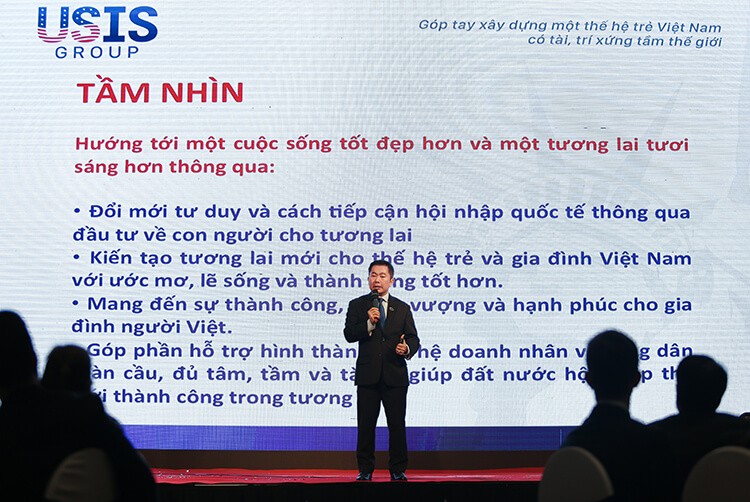 Mr. Chris Loc Dao (Chairman of USIS Group Board of Directors) introduced about the USIS Group and USIS Consulting Company - Developing potential successfully in the US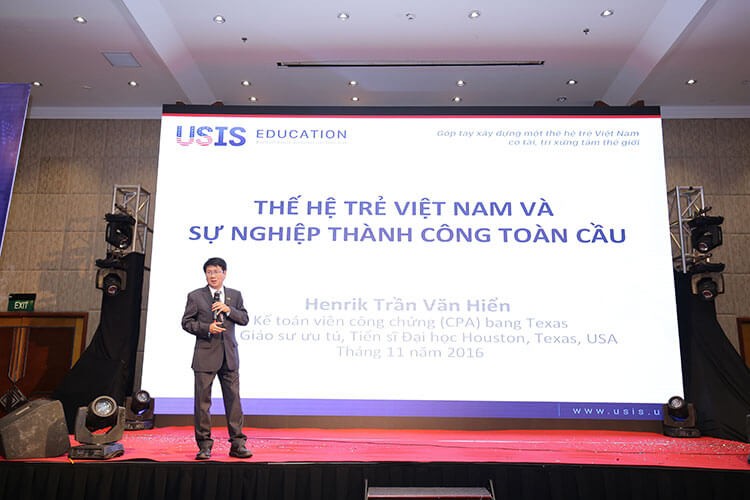 Professor Tran Van Hien (Senior Advisor of USIS Group) introduced about USIS Education - Career orientation for global success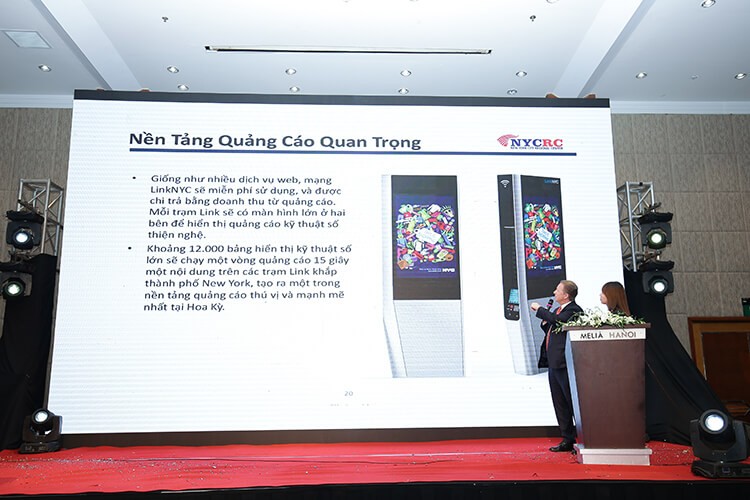 Mr. Gregg Hayden (General Director of NYCRC) introduced about USIS Investment - Opportunities to invest in the US government projects with Google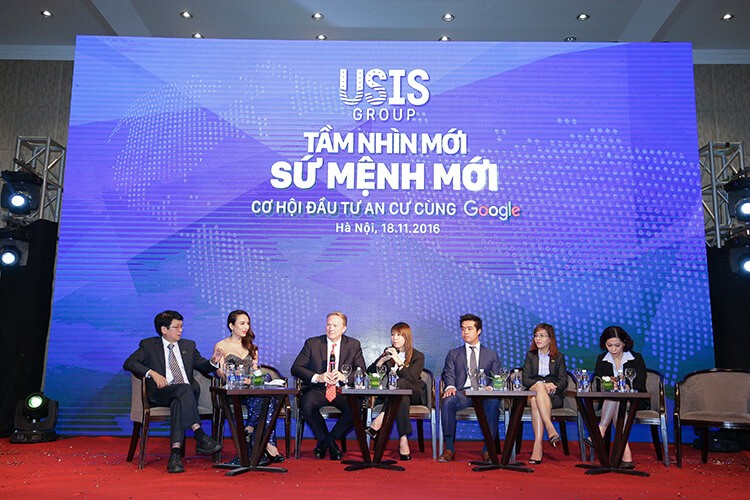 Representatives of USIS Group Board of Directors answered questions of guests about LinkNYC project and EB-5 program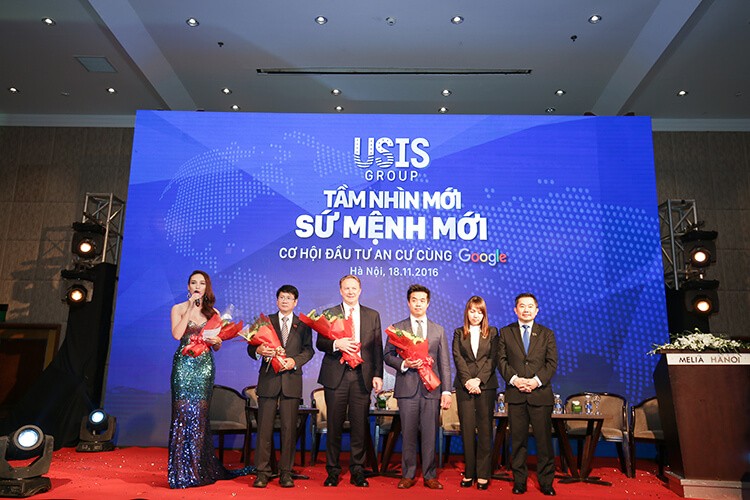 Program Organization Unit gave flowers for representatives and partners
The conference involved in the participation of the leading consulting experts from US and Vietnam. As for the organization unit - U.S. Investment Services Co., Ltd (USIS Group), there was the presence of Mr. Christ Loc Dao – Chairman of Board of Directors cum General Director; Ms. Tran Dinh Thien Nga – Director of Ho Chi Minh City area; Ms. Pham Minh Tan – Director of the North Representative Office.
As for New York City Regional Centre (NYCRC), there was the presence of Mr. Gregg Hayden – General Director of Asian Region; Mr. Charlie Dwyer – Vice Director and representatives of strategic partners such as Vietnam Association Of Corporate Directors (VACD) and Vietnam Chamber of Commerce and Industry (VCCI).
The conference also had the attendance of a variety of investors who were interested in the content of residential settlement investment in US.