On June 29th 2016, at GEM CENTER, 08 Nguyen Binh Khiem, District 1, Ho Chi Minh City, U.S. INVESTMENT SERVICES (USIS) COMPANY held the event USIS - SEVEN-YEAR JOURNEY – SPREADING LOVE.
This is a meeting of partners and clients in order to mark the development of USIS, which is also an occasion for USIS to look back on its achievements in recent years.
This is an opportunity for USIS to appreciate the great contribution of customers, partners and the entire USIS team who have accompanied USIS over the past period.
The following special guests attended the event:
Ky Boyle, Vice President of CMB
Lawyer Kate Kalmykov from Greenberg Traurig
Lawyer Phuong Le from David Hirson & Partners
Jerry Morgan, President of Mercan Group
Jeff Campion, General Director of Pathways Group
Professor Henrik Tran Van Hien: Tax – Finance – Economic Expert in American market.
The song "BE WITH FUTURE" which is particularly composed by musician Duc Thinh for USIS brought an impressive opening for this event. In that joyous atmosphere, Mr. Chris Loc Dao – Chairman of the Board of Directors of USIS delivered his opening speech.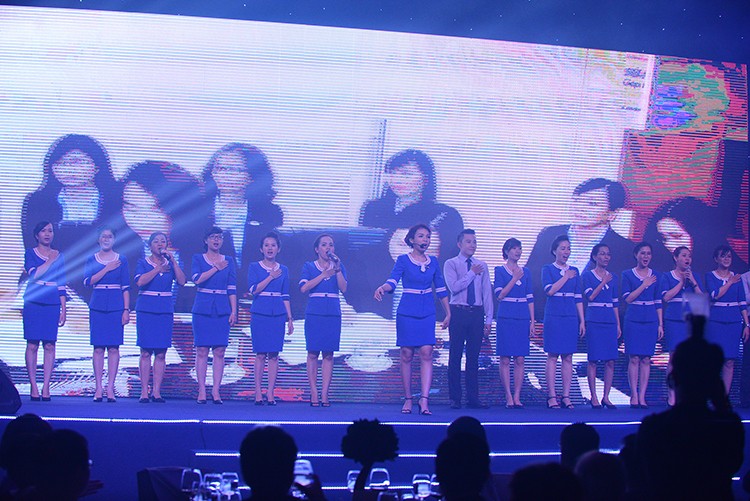 Following him, Mr. Nguyen Quoc Cuong – CEO of USIS presented activities of USIS over the past 7 years.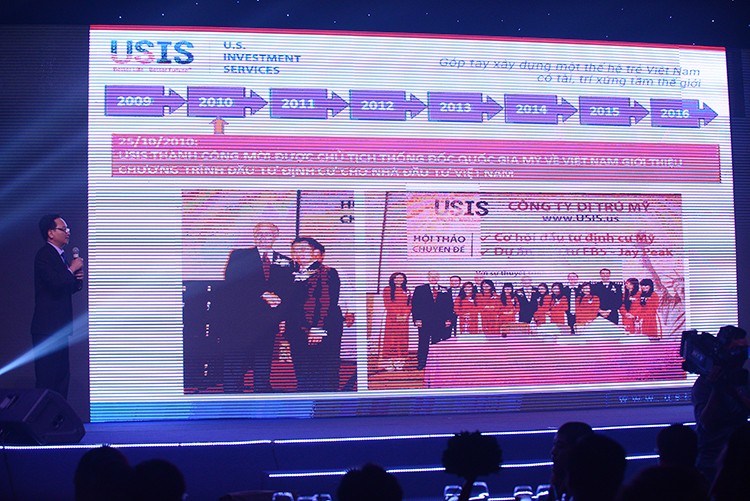 Next, the event honoured the partners and employees of USIS who have been with USIS during the seven-year journey. The partners and employees of USIS were invited to the stage to receive gratitude and commemorative medals.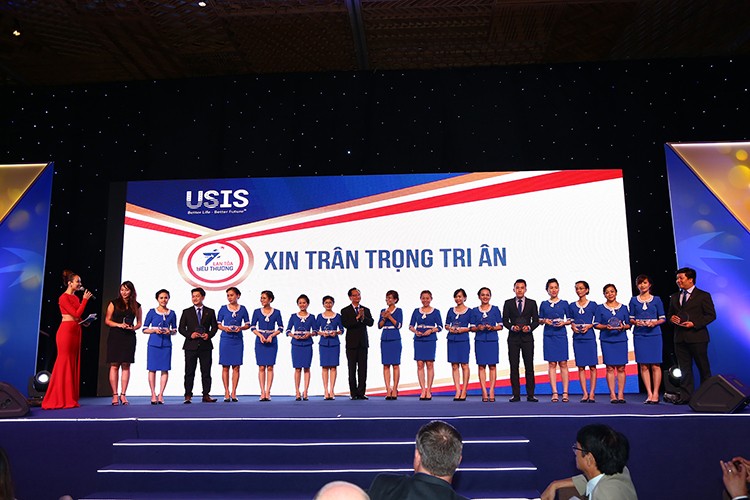 Also in that moment, birthday ceremony took place celebrating 7th anniversary of USIS. The Board of Directors and employees of USIS cut cake and drank champagne as a way of congratulation.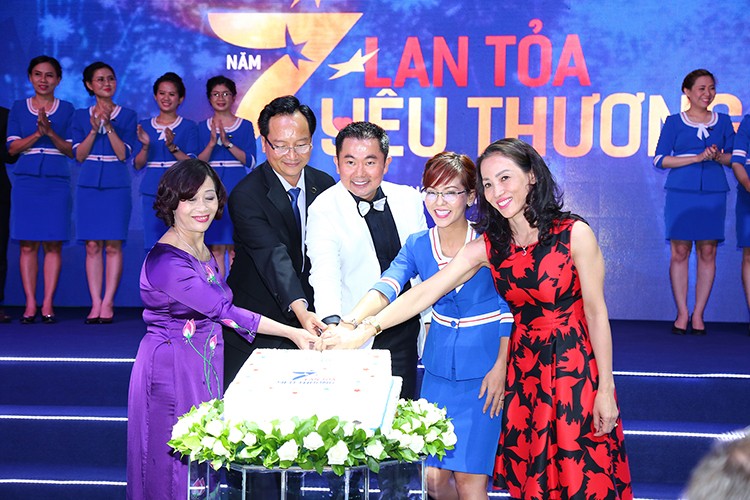 Contributing happiness to the event, singer Mira performed the song "Hello Vietnam" as a greeting to clients and partners of USIS.
The next item was the introduction about Four Seasons Project which has a lot of advantages, especially when billionaire Bill Gates is one of the shareholders. Mr. Jeff Campion - General Director of Pathways Group introduced about this project.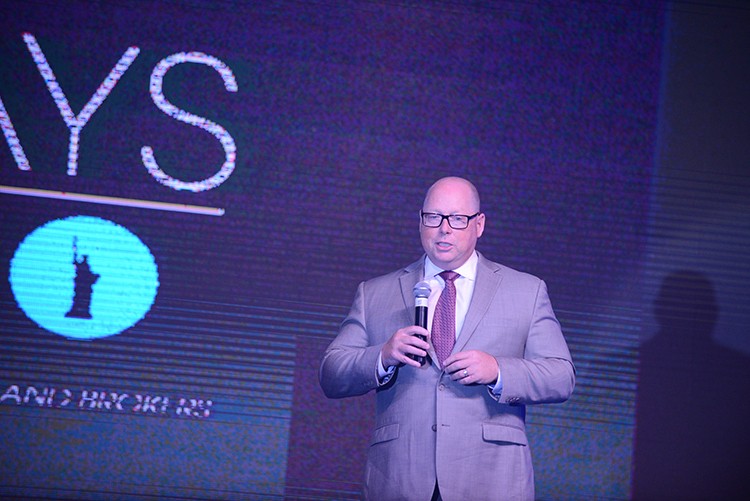 Another item in which most clients are also interested was the introduction about tax policy of the U.S., financial consulting, investment and business opportunities in the U.S. delivered by Professor Dr. Henrik Tran Van Hien.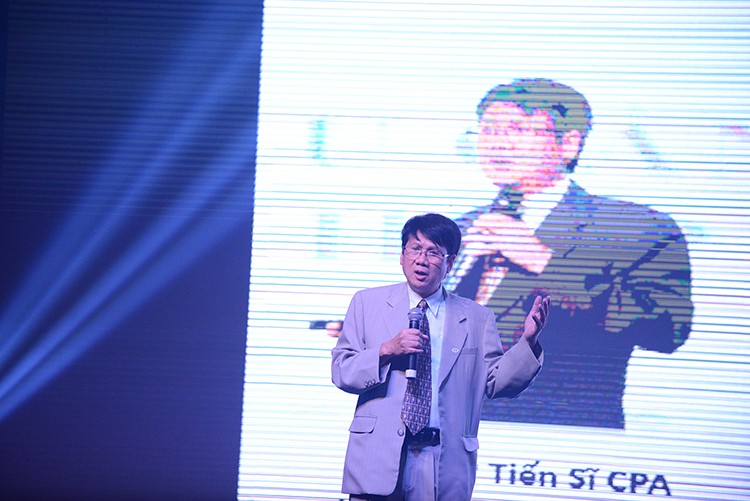 Also in this event, Chairman of Vietnam Association of Corporate Directors, Ph.D Han Manh Tien conferred Certificate to USIS and announced that USIS is an official member of Vietnam Association of Corporate Directors.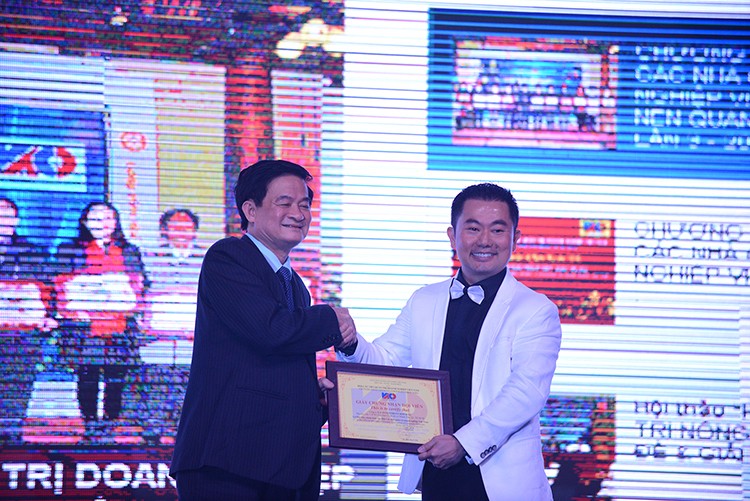 To sharing the joy of USIS, partners of USIS presented gifts as well as best wishes to the Board of Directors.
In the spirit of responsibility for community activities, USIS declared its participation in two charity funds: "Understand about Heart" and "The Bus of Childhood".
The representative of House of Childhood Project introduced about "The Bus of Childhood" after the impressive play of the kid star Ku Tin.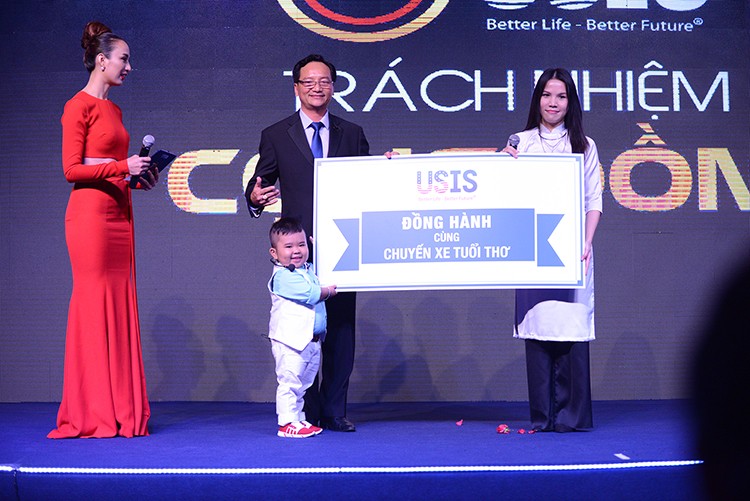 Mr. Chris Loc Dao gifted flowers and declared his participation in "The Bus of Childhood", a charity project dedicated to children in remote areas.
Then the representative of "Understand about Heart" – Mr. Chi Bao delivered his introduction speech in respect of this foundation. Through "Understand about Heart" Foundation, USIS wishes to help unlucky people.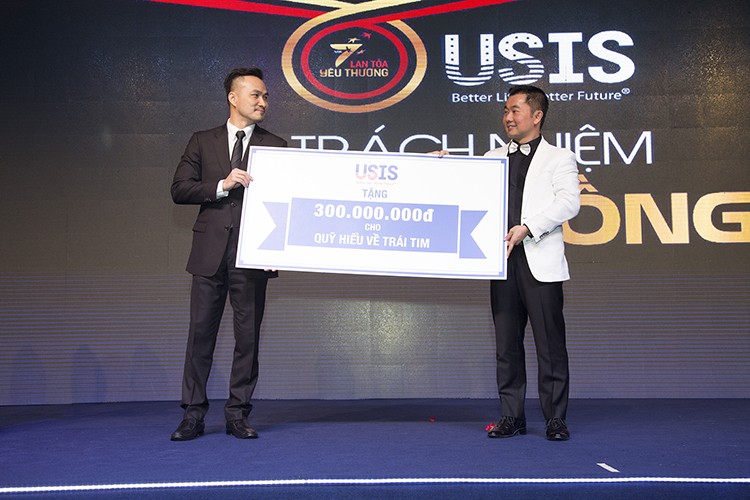 Together with USIS, sponsors further made contribution to the charity funds.
Finally, singers Mira, Ha My and Kian talked to audiences and the event concluded.
The event took place in a formal yet warm atmosphere and successfully ended with the satisfaction of the guests, promising an auspicious cooperation between the clients and USIS in the future.