The export market with big potential for agricultural and fishery products of the Vietnam
For such a long time, America, the largest economy in the world, is always the large, diverse and attractive market for all exporting countries, including Vietnam. With its vast consumer market with 322 million people and 18 trillion USD (GDP), the demand for import of agricultural products in this market is huge. The United States is the country importing the most agricultural products in the world, the US annually imports around 10 billion USD of vegetables, fruit; about 3.5 billion USD of coffee; more than 9 billion USD of rubber; more than 2.5 billion USD of types of meat; about 1.5 billion USD of products processed from cereals.
The trade relation between the US and Vietnam last time has developed rapidly both in size and value. Until this point of time, the US is the second big trading partner and is the largest export market of Vietnam. In 2015, Vietnam exported to the US market with a value of 30.6 billion USD/ year, of which export value of Vietnam's agricultural products reached 2.9 billion USD. According to statistics from the General Administration of Customs for the first 6 months of 2016, total exports turn-over of agricultural products to the US market reached 1.54 billion USD, increasing by 12.9% over the same period last year. With this growth speed, Vietnam is expected to export agricultural products to reach about 3.3 billion USD, increasing by 13.8% compared to 2015.
Product

2006

2007

2008

 

2009

2010

2011

2012

2013

2014

2015

Fresh Coffee

200,137

305,241

291,520

257,021

360,129

487,494

600,938

467,870

493,744

356,968

Meat products

624

488

424

150

231

371

6,350

5,444

269

98

Fresh /frozen fruits

3,917

5,672

8,351

5,018

7,278

10,987

11,635

11,936

14,234

19,409

Vegetables

10,238

9,817

8,637

8,862

8,517

8,778

9,406

13,433

16,995

16,020

Nuts

168,734

222,796

277,595

258,571

352,188

410,823

400,062

527,162

634,105

830,706

Oil TP, oilseeds

125

103

83

189

291

472

300

548

512

13,395

Tea, spices …

38,980

32,196

55,019

61,385

70,035

135,847

110,862

189,479

297,114

309,785

Cereals, animal feed

265

342

1,202

20,192

9,104

12,607

28,766

31,600

39,612

38,561

Shrimp fishing

653,435

697,581

766,338

680,728

873,156

1,071,390

1,123,935

1,344,674

1,640,744

1,341,720

Planting materials, livestock

689

483

1,548

1,304

1,760

2,771

3,399

3,105

2,713

3,177

Wood

460

485

1,386

360

125

358

320

56

1,068

1,063

Plywood, veneer

2,134

2,782

3,511

4,836

6,080

6,558

11,135

20,465

27,938

31,670

Agricultural machinery

2,794

2,606

2,637

1,446

2,587

4,577

6,585

6,814

9,065

16,576

Shoes

350,124

390,476

502,162

541,363

758,002

1,007,762

1,059,063

1,238,618

1,707,822

2,151,972

Medicine

51

264

507

2,590

4,836

3,553

7,067

5,474

1,875

4,999

TOTAL

8,566,664

10,632,820

12,901,098

12,287,816

14,867,856

17,487,840

20,267,677

24,651,036

30,615,564

38,019,696
(Source:US Population Investigation)
Textile products are still at the top with the biggest turnover valued nearly 6.3 billion USD, accounting for 33.4% of the total export value to this market. Besides textiles, 4 other items exported into the United States valued from 1 billion USD or more include: footwear nearly 2.36 billion USD, kinds of telephone and components nearly 1.53 billion USD, computers, electronic products and components more than 1.5 billion USD, wood and wood products nearly 1.45 billion USD. Basa fish products are considered the commodity with large export turnover of Vietnam in the US market. Octopus and squid products exported to the US achieved a value of 2,566 million USD in the first 7 months of 2015, increasing by 12.6% compared to the same period in 2014. The export to this country is accounting for 1.2% of the total export value of squid and octopus of Vietnam.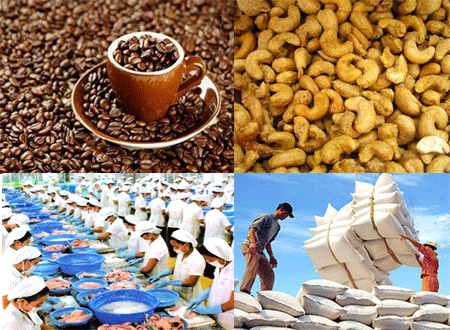 Agricultural and fisheries market of Vietnam is very diverse and rich
It is interesting that the opportunities for export of the key and "traditional" products of Vietnam, such as textiles, footwear, wood and wood products, seafood products, handbags, suitcases, hats and the agricultural and fishery products "emerging" of niche markets are also increasing such as organic agricultural products (organic), vegetable oils and oilseeds, tea, spices, plant material, animal, plywood, even drugs, particularly from natural plant sources. Specifically, the Vietnam organic products certified by the USDA (United States) or EU include cassava, coconut oil, fruit drinks, rice, dried fruits and vegetables even shrimp and fish are gradually penetrating more "easily" when meeting the quality standards that are the most annoying of this discerning market.
According to Mr. Nguyen Lam Vien, Chairman of Vinamit, at present, the market has a huge demand for fruits and vegetables of high quality, focusing on issues of user's health care. That is why in many popular supermarkets in the US, about 10-15% of the products meeting USDA organic standards do not only target the high consumer segment, but also more widely access to the middle-class consumer segment who pay much attention to health care. Mr. Vien also said that once accepted to receive products by the big markets like the US, Japan, Europe, it is able to say that our products shall not be manufactured enough for sales. In addition, they accept to pay more for the products that are reputable, have brand and high quality.
Many opportunities as well as challenges
America is the world's largest market, but together with the attraction, the export competition level of in this market will become increasingly more difficult and extreme. Indeed, in the Mekong Connect Forum - Ceo Forum 2016 (2nd time) dated October 26th, 2016 in Can Tho City. (ww.mekongconnect.vn), Mr. Herb Cochran, Executive Director of American Chamber of Commerce in Vietnam (AmCham Vietnam) mentioned the reasons why recently, the United States has strengthened the quality standards & imported food control. Accordingly, the Law on Food Safety Modernization of the Food and Drug Administration FDA (FSMA) creates multi-layered system of regulations including manufacturers, importers, third party, foreign country management agencies and FDA. FSMA is the food control measure since it has not entered into the US – landed on the US and freely sold on the US market. This leads to the enhancement of the ability of the food safety system of exporting countries, including the systems of closer regulations on supply chain of commodity from the exporting countries. Naturally, with such higher and higher technical barriers on the import quality standards, it will be more "difficult" for the Vietnamese enterprises who wish to export products to the United States while their export capacity is still limited to finance, human, market information, penetration strategies to the US market. For agricultural products, the manufacturers need to invest in quality, eliminate chemical residue, use clean soil, good varieties to reduce interference of inorganic fertilizers, pesticides and growth stimulants according to methods and organic farming or natural cultivation. According to experts, exporting to the US still faces many difficulties due to the enterprises themselves because the export capacity of the Vietnamese enterprises is relatively weak, exporting competitiveness with other countries in the US market is quite struggling with high freight and long transit times, the trading legal system, technical barriers and high food safety…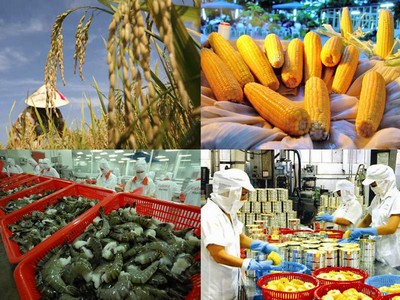 Agricultural and fisheries export in the United States has many opportunities and challenges
Mr. Bryan Phan - Director of Human Resources Consulting Service Supply 40hrs Company (USA) said the US market still had great potential for Vietnamese enterprises to exploit. But a sad reality that many Vietnamese enterprises still lacked information and did not have a full understanding of this market, which led to the unfortunate loss occurring when exporting to the US and not yet confirmed Vietnamese goods position in this market. Mr. Bryan stressed it was important that enterprises should be aware of the advantages and disadvantages when exporting goods to the US in order to offer reasonable solutions to take advantage of the opportunities, overcome difficulties to achieve ultimate aim of conquering and staying on this vast and potential market. In addition, when detecting defective products and having any questions or complaints, most US companies did not want to call Vietnamese exporters at 12 midnight in Vietnam (corresponding to the US working hours). What they wanted was that the Vietnamese enterprises would have a representative office in the US to solve all troubles incurred during the transaction. Accordingly, Mr. Bryan Phan recommended Vietnamese enterprises to choose the consulting or service firms to represent them in the US.
The US law is quite strict and if the exporters do not learn or hire the private law firms, they are very easy to violate law. If the enterprises want to bring this product to the market, they are forced to comply with the 2 steps: directly or through the importer to submit the food processing control programs to FDA to review and issue license. Next, the enterprises need to be recognized at the national level through the MoU signed between FDA and the competent state agency controlling food safety/hygiene in the exporting country. Only when there is a full range of certified papers mentioned above, can the enterprises put products into this market.
In recent years, many Vietnamese enterprises such as Kem Nghia, Hapro, Trung Nguyen Coffee, Vinacafe, Vinamit, Tai Vuong rice, Loc Troi rice, Mekong coconut water, Luong Quoi (coconut oil), G.O.C Food still continue actively participating in the exhibition programs, the food Fair week in the United States to search export opportunities, market penetration by opening representative offices in the US, looking for distributors/resellers to develop the distribution and sales system in the US.
Penetrating & exploiting market potential through advisory services & business connections
Besides trade promotion network of the state system, at present, role of the private trade promotion unit is growing and contributing significantly to the business performance for the exporting enterprise community. If Vietnamese enterprises have no available parts and specialized resources for export, the enterprises can seek external support from specialized units. As a leading expert on American investment promotion with more than 7 years of experiences, USIS Group has expanded its operations into the field of enterprise investment L1, real estate business, trade promotion through its subsidiaries - USS Consulting (www.usis-consulting.us) to complete the vision & mission of an organization that connects, companies & supports international integration for individuals & enterprises in the country and is the bridge to promote the Vietnam – US relation in the field of education - trade & investment. USIS Consulting is positioned as a reliable Resource "connecting one-stop business development" through activities of trade promotion and investment between the United States & Vietnam for individuals & enterprises.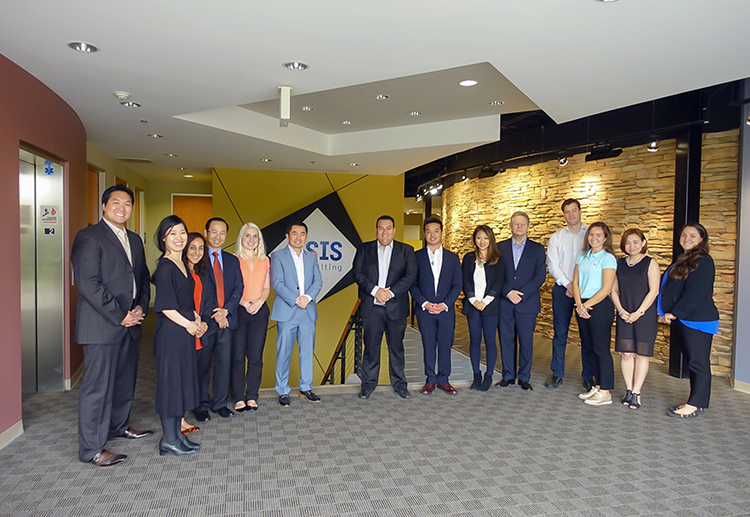 USIS Consulting office collective in Southern California, USA
With a team of leading and experienced consultants in international business, a group of class global and reputable international business partners, a system 5 of service offices spreading across the major cities of Vietnam and in America, USIS Consulting offers services consistent with needs and practical experiences of each enterprise according to different stages: from providing information & basic guidelines for initial preparing step; to selecting and capturing information for investment or market entry; or when the enterprises need active support for business development or investment in the US market.
At first, Vietnamese enterprises wishing provides the shared office services (business center), commercial representative, corporate investment L1 or trade promotion in the US market can contact us so enjoy special privileges during the opening time in the US.
The opening event of new office of USIS Group in Can Tho
"USIS Group NEW VISION - NEW MISSION"
At USIS Group Office, 269 30/4 Street, Xuan Khanh, Ninh Kieu, Can Tho
At 09:30 - 13:00, Saturday, December 10th, 2016
With the program discussing on specialized subjects in combination with individual consulting in order to serve individuals and enterprises in the Western provinces:
-      "Developing Business Potential in the US" by USIS Consulting (www.usis-consulting.us), specialized in consulting export and investment promotion: introducing opportunities to open shared office at the "Business Center" of USIS Group in the United States with preferential price; consulting corporate investment Visa L1 for business development; how to penetrate the US market and opportunities to invest in real estate in the US...
-      "Fulfill Your American Dream" of USIS Education (www.usis-edu.us): introducing the oriented study overseas service "USIS Excellency, for students who want to pursue their dreams on studying in the leading universities in the US such as Harvard, Columbia, Princeton, Cornell, MIT ...
We, USIS, are willing to listen to and consult the suitable services for the individual needs of each customer from consulting initial orientation, providing detailed information to actively supporting for you to enable to be residential, study, do business and invest successfully in the US.
As the number of seats is limited to 50 seats, please register early according to the link below:
We will contact you after receiving the registration to confirm your participation in the conference.
All requests or questions please contact:
Can Tho Office: 269, 269 30/4 Street, Xuan Khanh Ward, Ninh Kieu District
Tel: (84) 710 389 8668 
HCMC Office: CJ Building, 7th Floor, Room 701, 6 Le Thanh Ton Street, District 1
Tel: (84) 8 3822 0366
Hanoi Office: Melia Hotel, 8th Floor, Room 804, 44B Ly Thuong Kiet Street, Hoan Kiem District
Tel: (84) 4 3824 6959 
Da Nang Office: 89 Thai Phien Street, Hai Chau District
Tel: (84) 511 3664 679
U.S Office.: 1122 Bristol, 2nd Floor., Costa Mesa, CA 92626
Tel: (1) 855-837-4680
"USIS Group - "A hand to build a Vietnamese youth generation with excellent kindness, morals and wisdom at international standards""