Utilizing recently published USCIS data, IIUSA published a new data report on the latest Form I-829 statistics for the first quarter (Q1) of fiscal year (FY) 2023, analyzing the trends of I-829 case filings, adjudications, average approval rates, and the current I-829 case backlog at USCIS.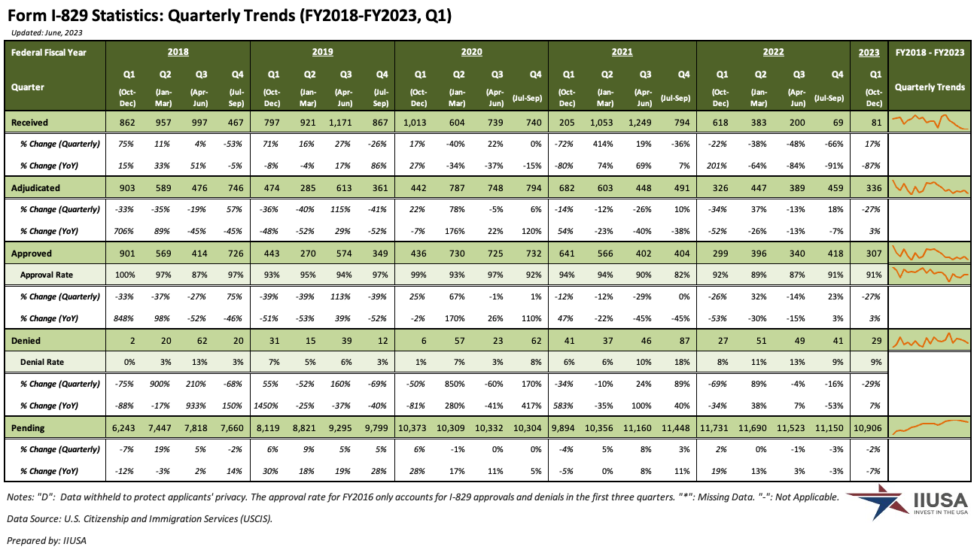 (Form I-829 Statistics by Quarter FY2018 – FY2023, Q1)
KEY DATA HIGHLIGHTS
Form I-829 Filing:
Only 81 EB-5 investors filed their I-829 petitions in Q1 FY2023. Although the volume of I-829 case filing bounced back from the historical low, it was still down by 87% year over year.
Form I-829 Adjudication:
Immigrant Investors Program (IPO) at USCIS adjudicated only 336 I-829 cases in Q1 FY2023, a decline of 27% from the previous quarter.
Form I-829 Approval Rate:
91% of I-829 petitions that were processed in Q1 FY2023 were approved by USCIS.

The high approval rate of I-829 petitions indicates that most EB-5 projects have fulfilled their promises of creating sufficient American jobs for the local communities.
Form I-829 Backlog:
As of the end of Q1 FY2023 (December 31, 2022), a total of 10,906 I-829 cases were still pending at USCIS.