1. Harwood Hotel Project:
This is Harwood's 12th project in Harwood Urban Area
Harwood Hotel is the first luxury boutique hotel built on an area of 0.46 acres in the city of Dallas, Texas.
The hotel has 21 floors, 132 rooms and total area of 20,636 sqm with 6.749 sqm of parking area (5 floors with 142 parking slots) and 13,886 sqm of hotel and facilities. The ground floor of the building is a corridor and restaurant area, a ballroom for 330 people, a garden area, an exclusive modern club. The Harwood's height is 85m which gives a panoramic imagery of the city.
2. Project location:
Harwood Hotel is located in the center of the top working and entertainment district in Dallas (Dallas-Forth Worth) - Uptown Dallas.
Harwood, located in the Uptown area, has been proven as the best-known building in the area due to its ideal location, excellent transportation network and close to main economic centers.
Uptown is a home of most exclusive and prestigious residential and office locations, the demand for housing and office space in this area ever gone further than other markets in Dallas.
Population has grown by more than 80% since 2000 and according to demographic statistics, this is one of the richest areas in Texas.
DFW is ranked as one of the top urban areas for business expansion and headquarters establishment, which has attracted more than 70 businesses headquartered established within the last five years.
The city of Dallas has experienced an increase in the number of visitors and business people visiting from Northern Texas, with more than 44 million visitors to the DFW Urban Area.
Demand is expected to increase due to the number of international flights increases through DFW Airport.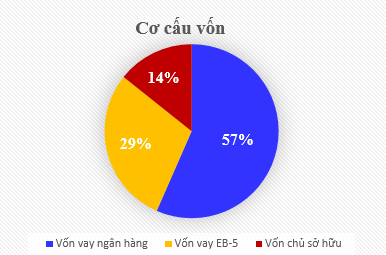 3. Capital structure:
Total construction cost: $ 94,388,549
EB-5 Capital: $ 27,500,000 (only 55 EB-5 Investors)
Owner's Equity: $ 13,488,549
Bank loan: $ 53,400,000
Form of investment: loan
Loan term: 6 years
Interest rate: 0.8% / year.
Total Job Requirements: 550
Total number of jobs expected to generate: 1,359. 809 redundant work. Redundancy rate: 147%