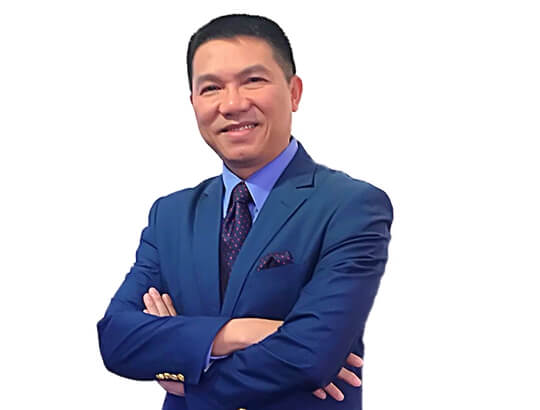 Derrick H. Nguyen (Nguyen Hoang Dung), received his BA in English from UCLA in 1987 and was awarded a Juris Doctor degree from the USC in 1991. He has been a consultant for many businesses in Orange County and holds many titles of major associations in the US:
Representative of many Vietnamese investors in the US.
Member of the board of management at many non-profit organizations in the US.
A legal advisor to many community associations (Asian American Seniors and Vietnam Alumni Association).
He was once the President of the Vietnamese American Bar Association of Southern California. He is an advisor to the Vietnamese American Chamber of Commerce in Orange County, and the International Program of the University of Extended Education, California State University at Fullerton.
He also associates with national organizations aiming at empowering the community, especially the next generation, in mainstream public affairs, such as Asian Pacific Islander American Chamber of Commerce and Entrepreneurship (ACE), Asian Pacific Islander Public Affairs Association (APAPA), and International Leadership Foundation (ILF) and Pacific Trade and Culture Alliance (PTCA).
In 2004, Mr. Nguyen was appointed by President George W. Bush to the President's Advisory Commission on Asian Americans and Pacific Islanders. In 2005, he was selected by the Orange County Register as one of "30 Vietnamese Americans to Watch." In 2010, he was chosen Business – Person of the Year by the Vietnamese American Chamber of Commerce in Orange County. In 2013, he received the International Leadership Foundation's Leadership Award. In 2014, he was nominated for the Orange County Business Journal's General Counsel Award. In 2017, he received the Inspiration Award from the Association of Asian American Professionals in Southern California. He has also been recognized numerous times by the US Congress, the California Legislature, various local governments and municipalities as well as many community organizations.
Additionally, in the US, Mr. Derrick is deeply involved in ethnic media and entertainment industry: he advises, contributes and appears as a legal commentator. In Vietnam, he is active in promoting and maintaining equality: he works with and lectures at higher education institutions to improve the legal and educational structure; he builds a school in the countryside to provide education access for the needy; and he works with charities to serve the disables.